Ice Spike Screw-in Ice Grips
ICESPIKE is a semi-permanent traction system that can be mounted on any running or walking shoe, hiking or work boot, quickly and easily. Take any pair of footwear, attach ICESPIKE\xBB, and enjoy outdoor fun and peace of mind on any terrain in any season!
One Size fits All
Simple & fast installation
Tool quality steel to maintain hardness and integrity of grip
Deluxe Package Includes: 1 Precision Tool + 32 spikes
The unique patented design of ICESPIKE\xBB provides unsurpassed surface penetration and stability which allows the wearer to feel at ease in conditions that would normally feel treacherous. ICESPIKE\xBB\xCDs versatility makes them wearable anywhere in any season. From walking the dogs to ultra running, from youngsters to seniors, everyone can use ICESPIKE\xBB and one size fits all!

ICESPIKE is unlike any other traction product on the market. It\xCDs an amazing, innovative concept because they are....

SIMPLE: No straps! No coils! No chains! No bulky attachments! ICESPIKE\xBB ice spikes end frustration with inadequate strap-on devices. Any footwear can be easily winterized with the semi-permanent ice spikes into ice safety shoes or ice safety boots.

EFFECTIVE: ICESPIKE\xBB provides outstanding traction in all conditions, whether ice, snow, or any treacherous terrain. ICESPIKE\xBB ice spikes won\xCDt shift, break, fall off, get lost or left behind.

LIGHTWEIGHT: ICESPIKE\xBB adds no additional weight and won\xCDt affect gait or cause muscle fatigue or injury. You don\xCDt even know you\xCDre wearing them!

DURABLE: The ICESPIKE\xBB ice spike is a specifically engineered design for extreme traction to insure unsurpassed hardness and long-lasting integrity of the grip.

Get the ICESPIKE\xBB EDGE and put the FUN back in Winter!

Are you concerned about encountering icy patches on the road ahead or risky winter trail conditions? ICESPIKE\xBB outfitted shoes and boots allow you to safely make the transition from normal conditions on passable roadways and paths to slippery or icy areas with ease and safety!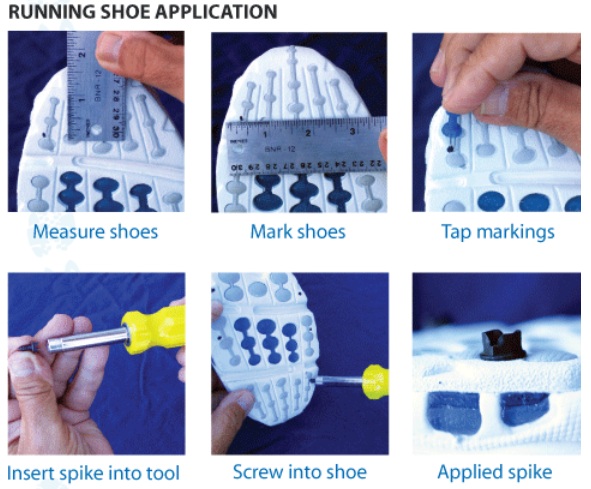 Product Reviews
100% Recommend this product
(
6
of 6 responses)
We've used Icespikes for three years in northern Maine. We dedicated a couple of pair of older hiking boots to them. They provide excellent traction. We walk our dog every day on a dirt road and we haven't fallen once. They're very durable and we get more than a year out of them.
Many of the grippers that attach to your boot either shift or fall off. These don't, and they're much sharper than most.
These can be a life saver. Take it from someone who went down knocking themselves out and splitting the back of their head open.
Be prepared to put runners down on any surface where you walk that you don't want to damage.
Ice Spikes
February 24, 2021
These ice spikes were a prefect fit for my hiking boots. I bought them after falling and injuring my back and head. Prices was fair, delivery was great and they were easy to apply to my boots.
Installed and ready to go
March 1, 2017
Received and installed easily with electric drill. Ice melted and have not been able to run with them yet on ice and compacted snow. Appear to be good quality as advertised.
As good as I hoped they would be
January 31, 2017
They arrived about a week ago and I fitted 8 on each walking shoe. There was enough ice along the way to test them out, excellent grip on any surface. However, the last day of January brought freezing rain. Every side road was a skating rink. So, this would be the ultimate test.
As it turned out, I felt totally safe walking on that glazed surface. Yes, I had to shorten my stride a bit to put weight on the shoe but they never slipped. Really important when two dogs are pulling you along.
As promised, the spikes are made of very good steel and properly treated. After over a week of walking they have not worn down.

Pros
Just to have the confidence that this older bones are safe from slipping and breaking on ice is awesome.
Cons
One really has to keep the spiked shoes as dedicated ice shoes. Have another pair for regular use or use old shoes for the spikes.
Better than expected
January 30, 2017
This product surpasses expectations and is very aggressive on ice and any slippery surface.