Mission EnduraCool Multi-Cool Cooling Neck Gaiter
Feel cool in this multi-functional performance fabric. The Enduracool™ Multi-Cool is made from a proprietary performance fabric that instantly cools when soaked with water, wrung out, and then snapped in the air to activate the cooling properties. Designed to be functional and versatile, the Multi-Cool can be worn in over 12 different ways to help you keep cool, and protect yourself from the sun's harmful rays. The patented technology, Powered by Coolcore™, works by absorbing moisture and perspiration into the fabric core where the unique radiator-like fiber construction circulates water molecules and regulates the rate of evaporation to create a prolonged cooling effect.
One Size Fits Most
INSTANT COOLING TECHNOLOGY
THE PROBLEM
HEAT-RELATED ILLNESS AFFECTS TENS OF THOUSANDS OF ATHLETES AT EVERY LEVEL OF SPORT ONE OF THE LEADING CAUSES OF PREVENTABLE SPORTS INJURY
MAJOR ORGANS CAN STOP FUNCTIONING IF THE BODY TEMPERATURE GETS ABOVE 104.5° - 105° F
SOURCE: NATIONAL CENTER FOR SPORTS SAFETY
INEFFICIENT OPTIONS
CURRENT OPTIONS FOR COOLING DOWN YOUR TEMPERATURE FALL SHORT OF MEETING THE NEEDS OF TODAY'S ATHLETES:
TEMPORARY • CUMBERSOME • HARD-TO-CARRY • NON WEARABLE • MAY REQUIRE REFRIGERATION SOAKS CLOTHING, ADDING EXTRA WEIGHT AND DRAG • DOESN'T PROVIDE SUSTAINED COOLING
THE SOLUTION: ENDURACOOL
ON DEMAND COOLING: WORKING TO ADDRESS THE PERVASIVE PROBLEM OF OVERHEATING, MISSION CONTINUES TO LEAD THE INDUSTRY IN WEARABLE COOLING INNOVATION. ENDURACOOL, A REVOLUTION IN FABRIC TECHNOLOGY, DELIVERS FAST, LONG-LASTING COOLING TO HELP ENHANCE PERFORMANCE BY KEEPING YOU FOCUSED ON YOUR GAME AND NOT YOUR BODY TEMPERATURE.
THE TECHNOLOGY
MISSION'S ENDURACOOL IS POWERED BY COOLCORE™, THE INDUSTRY'S FIRST CHEMICAL-FREE COOLING MATERIAL FOR THE TEXTILE MARKET. THIS MATERIAL RECENTLY RECEIVED PATENT PROTECTION AS THE ONLY INNOVATION THAT DELIVERS THREE DISTINCT FUNCTIONS TO REDUCE THE FABRIC'S SURFACE TEMPERATURE UP TO 30°.
1. WICKING
2. MOISTURE CIRCULATION
3. REGULATED EVAPORATION
IN ADDITION TO THE COOLING BENEFITS, THE MATERIAL IS SIGNIFICANTLY DRIER DUE TO ITS NON-CLING, NON-SATURATED NATURE, AND BECAUSE IT IS CHEMICAL-FREE, THE COOLING BENEFIT NEVER WASHES OUT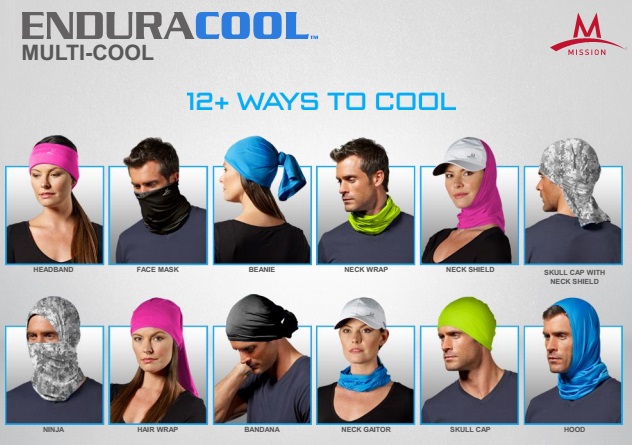 About Mission Athletecare MISSION is the first and only line of Athlete-Engineered products designed to enhance performance in training and competition. Launched in 2009, MISSION Athletecare has quickly become a driving force of innovation in the sports industry uniquely focused on products that help athletes prepare, perform, and rehab from competition. MISSION was co-founded by a premier group of world-class athletes including 13-time Grand Slam Tennis Champion Serena Williams, 7-time MLB All-Star David Wright, and NBA Champion Dwyane Wade among others. All of these athletes wanted to be part of the solution to the void of Athletecare\xBB products available to athletes in the marketplace.


Product Reviews
100% Recommend this product
(
8
of 8 responses)
True to form
August 1, 2020
Wasn't sure but it does work also good to use as a 😷
By David P.
Lee?s Summit, MO
Mission gaiter
July 18, 2020
Product works better than I expected. I use one everyday.
great product
May 2, 2018
Love to snap it because it gets cooler and has worked really well in 90 degree temperature Many options of how you want to wear it. Also works great around neck tucked in your shirt
poor title for a NECK WARMER or Cooler
September 21, 2017
The manufacturer's naming of the product's color is wrong ORANGE is ORANGE NOT HIGH VIS CORAL, this IS confusing
By NancyW
Newport News. VA
Awesome cool off
September 6, 2017
I bought this as a gift for my son that works on a construction site that gets very hot inside. He says it's easy to use and helps him cool down.