Korkers Extreme Ice Cleats
Item Qualifies for Free Shipping
Korkers Ice Cleats Extreme overshoes perform in the most demanding winter conditions. These ice grippers are study, reliable and fasten securely to your shoes or boots so they do not slip off.

Lightweight and extremely durable, Korkers Extreme Ice Cleats function as an overshoe that performs great in the most demanding winter conditions.
Instant Traction on Ice and Snow
Easy On/Off: Quick-release buckle and strap system
Quick-release buckle strap
Molded rubber walls at toe, heel and side providing a secure fit
28 durable push through spikes, heel and ball of the foot for ice biting traction where you need it
Full Foot Traction
Secure fit molded rubber walls at toe, heel and side providing a secure fit
Great for working outdoors, hunting, fishing etc.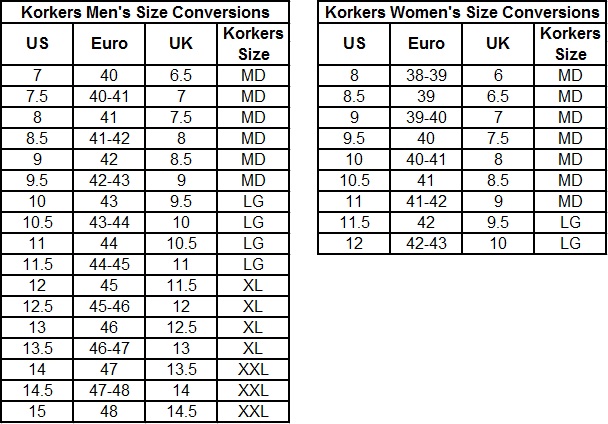 Korkers creates all terrain footwear featuring patented adaptable traction that allows outdoor enthusiasts to optimize their traction performance in varying conditions in and out of water.

The Korkers brand was born over 50 years ago on the rugged and treacherous riverbanks of the Rogue River near Grants Pass, Oregon. Made by hand, using scrap rubber, nylon cord, and carbide spikes, Korkers "River Cleats" were created in the basement of Korkers founder, Sherman Smith. Guide Wading BootThe functional yet versatile design of the cleat system quickly grew as a favorite among fisherman who often found themselves slipping and/or falling on slippery river rock, and eventually spread to provide traction safety to a number of industrial applications such as roofing and outdoor work on snow/ice.

Over the years Korkers hasn't abandoned its independent thinking. The Company continues to be bold and innovative, having the courage to take risks in order to meet the needs of those who identify with the intensity of mountain adventure where extreme conditions can be challenging and unforgiving. Their gear must perform double duty as conditions change rapidly and performance optimization puts every piece of gear to the test. Some people gear up, we prefer "gearing down". That's where Korkers thrives.


Product Reviews
100% Recommend this product
(
6
of 6 responses)
Great Protection
March 29, 2023
I think these will be great for my winter walking next year. Unfortunately the shipping was a bit slow making its way across the country, so by the time I was able to try them most of the ice had melted. I did have some smaller patches of ice to walk on and they seemed to offer a wonderful grip!
Pros
Good grip on ice. Good fit -- wide enough to fit my hiking boots. Buckle system is better than my previous cleats that used velcro which eventually wore out.
Cons
Felt a bit cumbersome to walk with, but I probably just need some time to get used to them.
Rugged enough to climb 400 foot dirt walls on the side of Lake Michigan
March 22, 2023
The cleats are very strong. They have great straps that hold completely no matter how much strain I put on them. They are easy to clean and I go where the clay is very thick. I will have these for many years to come.
better work comfort
December 23, 2021
Going Out Knowing your safety is vital to assure a safe trip and a even more important safe return have used for over 20 years in some of thr roughest condition in New England Winters plan on buying and making sure my brothers safe everyone says all the time you don,t need those and My Buddy at work power Company was shocked when my tree hard hat saved My life when a 13,800 volts wire hit my helmet knocked me too thr ground and my korkers gve me help to quckly get out of harms wayi truly believe i,m still here because these cleats you all stay safe and never let someone say your beiing Too Safe love the product and its durability factor
Korkers Extreme Ice Cleats
November 22, 2020
I really haven't got much to tell you at this point because it's a Christmas present for my son but I can say they arrived in a short period of time and they look just like they are presented in the picture.
Outstanding grip on ice
January 4, 2018
Excellent choice for working or playing on ice. Outstanding grip. Highly recommend this product.
Pros
Fit true to size chart
Cleats provide excellent grip on ice