Warm & Safe Generation Waterproof 90W+ Men's Heated Jacket Liner - 12V Motorcycle
Item Qualifies for Free Shipping
Warm N Safe Heated Jacket Liners are trusted worldwide for their superior comfort and heating performance. These great motorcycle jackets are perfect for riding in colder weather conditions and can be worn as a stand alone or under a protective jacket. These 12V Heated Jacket Liners include a battery harness for a direct power connection to your motorcycle. This Men's Heated Liner Jacket produces 90+ Watts of heat with a draw of 7.5A at 12.8v. Believe it or not there are those that do not realize that the motorcycle or ATV when running actually can put our up to 15.25Volts. That means the liner will actually produce more heat with the vehicle running than with the engine turned off. You will see us sometimes using 12.8V and sometimes 13.8V in talking about the Watts of heat and the Amps of draw. Don't get confused, it is just a base line for reference. So if you are going to test our heated gear, do so with the engine running to get the right Voltage and Amps to simulate being on the road. Product Description:
Battery Harness Included
Temperature Controller Sold Separately
New Waterproof & Breathable Heated Liner using Gelanots!
90 Watts at 13.8V of Heat using our NEW Soft Heat Pure Science Heating Method
Reflective "Illuminite" to keep safe at night when wearing it as a jacket
Waterproof Breathable Gelanots Stretch Panels on the outside to keep heat against the body
Anti-bacterial Stretch Panels on the inside to keep heat against the body
Locker Hang Loop and Chest Pocket
Pocket in Pocket Designed for to take the Remote Heat-troller
Single or Dual Controller Functionality
Tall Size is 2 inches (50mm) Longer Body, 1.5 inch (35mm) Longer Sleeves
All Our Heated Gear should be used with an optional Heat-troller
Breathable Shells with Wind Stop and Moisture Block
Locker Hang Loop
Pocket in Pocket Designed for to take the Remote Heat-troller
Single or Dual Controller Functionality
Tall Size is 2 inches (50mm) Longer Body, 1.5 inch (35mm) Longer Sleeves
All Our Heated Gear should be used with an optional Heat-troller
About Warm & Safe Liners:
Form fitting, snug fit for maximum heat transfer
Flex panels for maximum range of movement
Heated pads on front, upper and lower back, sleeves and collar for full heat coverage
Integrated glove plugs and pant plugs stow in zippered pockets when not in use
Coaxial plugs engineered for best possible connection
Dual Zone Heating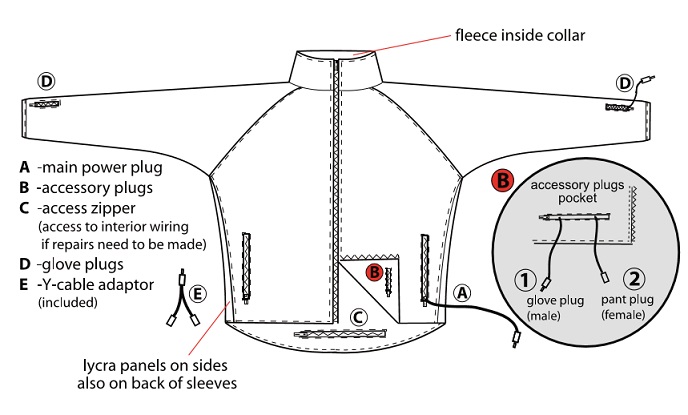 Warm & Safe Heated Liner Q & A: Q. Do Warm & Safe Liners have a heated collar? A. Yes! All 12V liners have a heated collar to keep your neck warm. Q. Do you use a high quality zipper or fastener to increase thermal properties? A. Yes! All zippers are the best YKK brand. The main zipper has a baffle between you and the zipper up to the neck. Zippered hand pockets and integrated plugs for connecting gloves and pants are also hidden in small zippered pockets when not in use. Eureka! No more dangly cords when sipping coffee at the cafe. Q. The Warm & Safe advertisement says liner is pretty thin. Which one do you think is warmer (thicker) when you are not using the electric heating? A. Warm & Safe Heated Liners are designed to be temperature neutral. As you ride through warm and cold zones you won't have to stop by the side of the road to dress and undress. When not turned on, our liner is not going to get as warm as others and it is designed that way. Q. Do Warm & Safe liners have a comfortable fit? A. Lycra stretch panels allow a form fitting close fit to the body without sacrificing comfort, and allow optimum heat transfer to the body. Q. Is the glove circuit independent of the jacket? Do the gloves need a separate input for the controller, or is it like others where it is feeding off the jacket current. I would like to use the dual control heat-troller to control the glove heat separately from the jacket, and would like to eliminate the need to fish my Y-cable through my jacket sleeves to accomplish this. A. Because of an ingenious design, we have made each The Warm & Safe Heated Liners capable of running with either a single or dual heat-troller. This means you can run the gloves off the liner or with the same wires built into the liner you can run the gloves independent.
Product Reviews
100% Recommend this product
(
2
of 2 responses)
By Daniel W.
Greenville South Carolina and Bennington Vermont
It is as advertised.
April 6, 2022
So far so good but itís been hooked up to an old controller that I had.
I plan on buying one of the warm and safe controllers then Iíll have a real world evaluation using just Their products that have been engineered to go together.
By jason m.
Northeastern North Carolina and Northern Illinois.
I'll never ride without it!
March 4, 2021
I've had my vest for 9 years now and it's the best purchase I ever made. I started out years ago wearing 7 or 8 layers of clothes, trying to keep warm. I got tired of taking a half hour to get dressed and finally bit the bullet. I am SOOOO happy I did. I got a size larger than I should have, not knowing that the jacket needs to fit snugly to make maximum contact with the skin, but with my leathers and vest on, it gets pretty snug so there's no problem there. I quickly purchased heated gloves to go with it, once again making the mistake of a size too large, but still, I am so happy I did. I can now ride all winter, when weatrher and road conditions permit. As for a heat controller, I started out with a split controller to control the gloves and vest separately. It works great. I eventually graduated to remote controller, which made getting access to the heat switches MUCH easier as I kept it attached with velcro to the top of my dashboard. It's now a simple exercise of reaching up and adjusting it rather than trying to dig the wired controller out of my pocket to do it, which is impossible while riding. Overall, I give vest and controllers a maximum grade. Including service and repairs, as I had a glove that failed several years ago and returned it for repair and it was back quickly, as good as new, with no charge. (This may not work everytime!)
Pros
good price
heats GREAT!
ease of use.
warm without electricity during spring months
Cons
I will NEVER say bad thing about electric heated clothing!!!!