Ergodyne Chill-Its 6705CT Evaporative Cooling Bandana with PVA
Chill-Its 6705CT Evaporative Cooling Bandana has built-in PVA cooling towel and velcro for an easy closure and comfortable fit around your head or neck.


Advanced PVA material activates easily and quickly when run under water for one minute
Re-usable: just soak in water to re-activate
Super-evaporative cooling process helps keep you cool
Lightweight and low profile; perfect for under hard hats
Tie closure
Patented design
Great For:
Construction, Trades, Maintenance,
Landscaping/Grounds, Assembly/Fabrication,
Material Handling, Freight/Baggage,
Warehousing/Distribution, Iron/Steel Fabrication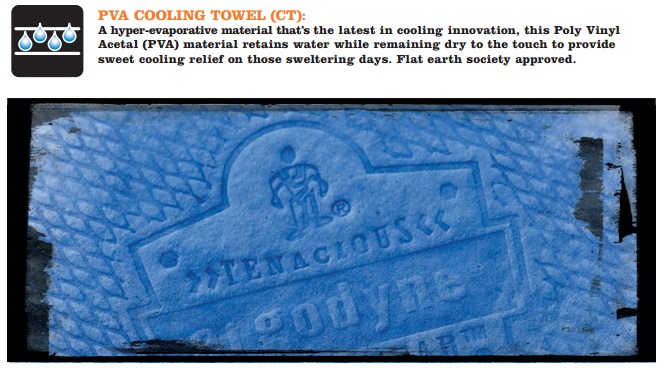 PVA Cooling Towel: A hyper-evaporative material that\xCDs the latest in cooling innovation, this Poly Vinyl Acetal (PVA) material retains water while remaining dry to the touch to provide sweet cooling relief on those sweltering days. Flat earth society approved.

LIGHTWEIGHT AND LOW-PROFILE: Unlike traditional cooling products that use acrylic polymers, the PVA material eliminates the \xF1sausage\xEE look and bulkiness.

NO RESIDUE: Forget the slimy feel that can come with traditional cooling solutions, the PVA material doesn\xCDt turn into a gooey mess.

ACTIVATES QUICKLY & EASILY: Simply soak in water and within minutes you can enjoy coolness for hours. Perfect to have on-hand if a worker displays symptoms of heat stress.

MINIMAL MAINTENANCE: Reusable, simply re-soak and you\xCDre good to go. Machine washable.

IDEAL HEAT STRESS SOLUTION: These products aid in keeping core body temperatures in check, resulting in more comfortable and safe working conditions in high heat environments.


Chill-Its are a division of the powerhouse workplace safety equipment brand Ergodyne. Chill-Its products bring a frosty layer of comfort to your jobsite inferno, so you can work (or play!) longer. Why is staying cool in the heat and humidity so important? Heat stress is no joke and can result in death. You can't change the weather but using Chill-Its can help you change your approach to the heat. From neck bands to vests to wide-brimmed hats, Chill-Its by Ergodyne has the right cooling product for the hardest working people on the planet.