Nature Creation Spine & Back Herb Pack
Nature Creation Spine & Back Herbal Pack is the convenient and hassle-free solution to relieve and relaxation.

What is the Spine/Back Pack? A multipurpose design intended to relieve lower and upper back pain. The Spine/Back Pack measures approximately 16.5" x 8.0" and can be placed along the spine and the lower back and/or abdomen for temporary pain relief. Why Nature Creation Spine/Back Pack? Nature Creation Spine/Back Pack is a convenient do-it-yourself relaxation therapy. It provides an effective pain relief solution while giving you an affordable and convenient technique to relax and pamper yourself. The Spine & Back Pack is reusable and can be used hot, moist or cold.

Microwave/Moist Heat Uses
Relieve muscle pain and aches
Relieve pain due to injured muscles
Relieve minor joint pain
Relieve minor headaches
Freeze/Cold Uses
Relieve pain due to injured muscles
Relieve minor headaches
Relieve minor burns and bruises
Promote muscle relaxation
Filled with our blend of 100% natural herbs the Spine/Abdomen Pack provides combined benefits of a regular Hot and Cold Pack and Aromatherapy. The uplifting and soothing aroma help relieve tension and stress, promote relaxation and overall wellness. The Spine/Abdomen Pack may be used Hot or Cold depending on your needs and preference. When used hot it is effective in relieving muscle aches and pain, menstrual cramps and reduces stiffness. Use cold to relieve pain associated with joints and tendons, reduce swelling and relieve minor burns and bruises. The Spine/Back Pack is easy to use. Secured with two Velcro straps you can comfortably walk around with it at any time.

Nature Creation Spine Pack Specifications:
Product size: Approximately 16.5" x 8.0" x 1.25\xCD\xCD
Applications: Hot/Moist/ Cold.
Material/ Fabric: 100% Cotton.
Filling Ingredients: Chamomile, Cinnamon, Lemongrass, Peppermint, Rosemary, Spearmint, Yarrow, Yellow-Dock Root, White Willow, Flax Seed, and Wheat.
Warranty: 1 year craftsmanship warranty.
Made in USA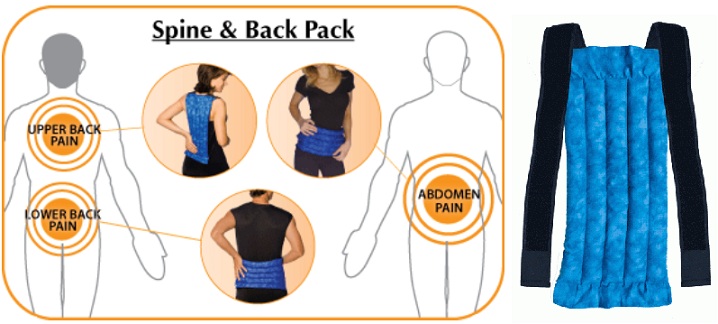 Nature Creation\xAC is the leading manufacturer and distributor of natural hot & cold herbal packs in the USA. We only use top quality herbs (food grade), which are mixed to create an effective aromatic formula. Together with the grains, which maintain the heating and cooling effects, the packs can provide great relief for common body pains, minor headaches, stress, muscle stiffness, and more.


The unique blend of Nature Creation\xAC natural herbs includes chamomile, cinnamon, lemongrass, peppermint, rosemary, spearmint, white willow, yarrow, and yellow-dock root. In addition, flax seed and wheat are added to the blend as the heating and cooling components.


Product Reviews
100% Recommend this product
(
1
of 1 responses)
By Cyndi F.
501 Hamlet Court, Fruitland Park, FL 34731
I had to write and let you know how much I love your product! I received the neck and shoulder wrap for Christmas and I love it! The workmanship is great! I have my own company and I know workmanship and your products are top of the line. I love this product and I'm sure it is one that I will use daily. The most useful Christmas present I've ever received.