O2 Cool Deluxe Necklace Fan
The O2 Cool Deluxe Necklace Fan provides hands-free cooling with vertical airflow and a lightweight design with breakaway lanyard. Keep cool in the hot summer days everywhere you go. Necklace fan provides a comfortable yet powerful breeze.

This great personal air conditioner has been a best seller for years and we know you are going to just love it!
Measures 1" diameter x 5" high
Requires 2 AA batteries (not included)
Hangs around your neck for hands-free cooling
Provides a powerful yet comfortable breeze
Great for outdoor activities or indoors at a theater, school or sporting event
Color coordinated break-away lanyard
Hands-free cooling - Vertical Airflow
Breakaway safety lanyard
The O2COOL Personal Necklace fan is perfect for cooling on-the-go. The fan comes in a variety of colors to coordinate with your favorite work-out clothes or outfits.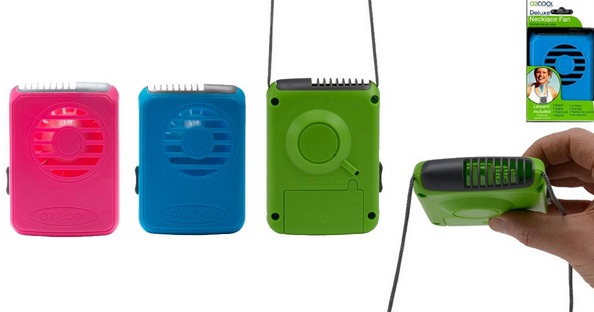 O2COOL\xCDs Personal fans are perfect for cooling on-the-go. We offer a variety of products that provides a cool breeze and misting all in the palm of your hand as well as a necklace and clip fan for hands free cooling. The fans can be carried in your purse or pocket.


Product Reviews
100% Recommend this product
(
24
of 24 responses)
O2 Cool Fan
July 26, 2018
This is a great gizmo. It is strong enough to keep me cool as I workout.
Battery powered fan
July 21, 2018
Love the colors and also how they give you the freedom to use your hands because of the ability to wear them around your neck. I got them for my family and friends for our upcoming vacation.
Wonderful hang around your neck fan. It is sooo hot here in Calif and cannot afford to run air conditioner.
July 5, 2018
I never expected these to be so great for such a.cheap price but I ordered 5 for Christmas gifts and I know my family is going to love them. I am an 84 year old bedridden woman and I just hang it around my neck in bed and read or watch t.v. And really feel that I,have the air conditioner on. It is so light that I don?€â"¢t even know that is is hanging around my neck. I just feel a nice gentle breeze. I am thrilled that I
Bought them. Your only expense after you get one is a couple of batteries from 99 cent store. No huge
Electric bill from having the air conditioner running all day. I could not be more pleased. THANK YOU,
Thank you!!!!


.
Pros
Keeps me cool and not having to lay a huge bill for running air conditioner all day.
Cools you down when you are hot.
O2 Cool Neckace fan
May 5, 2018
Love it. I use a wheelchair and this is perfect. It provides a nice breeze and would recommend it. I called customer service with a question and the company and the gentleman was very nice and helpful.