MiraCool Classic FR Phase Change Cooling Vest & Packs HRC 1
Item Qualifies for Free Shipping
The OccuNomix Classic Phase Change Cooling Vest is made from ASTM F1506 compliant flame-resistant treated cotton that creates a microclimate and cools off your body regardless of the weather you are in. The vest is also soft, lightweight and very comfortable to wear wherever you are.

Phase Change Cooling Vests contain 6 oz. Flame resistant treated cotton. Soft to the touch. Lightweight, cool and comfortable. Flame Resistant through 50 washes. Meets ASTM F1506. Arc Rating 7.2 cal. NFPA 70E / HRC level 1.
Embroidered Arc Rating
Cools for 2-3 hours, set at 65 degrees
Spare cooling packs (PCP1) (Made in USA)
1 3/8\xEE Yellow gloss reflective tape: Horizontal stripe front and back
Adjustable with hook & loop strap
Thinsulate Insulation
Retail ready packaging
Vest Length 17 _\xEE
Includes: Miracool Phase Change Cooling Pack Item # PCP1:
Cools for 2-3 hours, set at 65 degrees
Additional spare cooling packs for PC1
Non-toxic
Packaged in retail ready snap handle bag
Made in the USA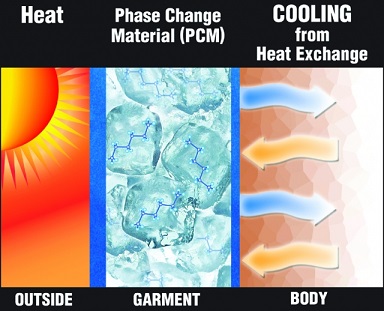 About Phase Change Materiel:
Commonly used under military combat gear, hazardous materials suits, mascot costumes, and other apparel.
Provide cooling comfort and heat stress protection in high temperature environments.
Phase Change Material (PCM) releases long-lasting, temperature-specific 58F (14 degrees C), cooling relief.
Phase Change Material (PCM) is 30% lighter than water.
PCM is non-toxic, non-flammable, durable, reusable, lighter than water, and does not produce condensation.
Benefits of Phase Change Cooling Vests:
Heat Stress Protection
Helps prevent exhaustion and dehydration
Provides cooling comfort in high temperature environments
Reliable and Reusable
Trusted by US Military and Armed Forces
Phase Change Vs. Evaporative Cooling: Phase change cooling provides a lower cooling temperature as compared to evaporative cooling products. The main difference is that evaporative cooling products are activated in water and use the evaporation process to provide cooling, and phase change products utilize freezable charge packs to provide the cooling effect. Phase change products typically get colder than evaporative items but do require re-freezing or extra charge packs for extended use.