MiraCool Water Activated Cooling Headband
A MiraCool headband keeps your head cool and comfortable, even in the hottest summer weather. This affordable cooling headband holds MiraCool crystals that absorb 1000 times their weight in cold water.
Activates in Water
Hours of cooling relief!
Long length for easy wearing
Designed to cool important pulse points
Longer and narrower than the MiraCool Bandana
MiraCool Crystals encased within the Headband hold a generous amount of cool water for highly effective evaporative cooling
100% cotton.
As water evaporates, your pulse points are cooled, sending cooling sensations throughout the body. These 100% cotton headbands are longer and narrower than the MiraCool cooling bandana, but the headband is longer to ensures a secure tie. Don't sweat the summer heat this year. Use a Miracool cooling headband to stay cool and refreshed while you work or play in the searing sun.

MiraCool Cooling Crystals encased within the 100% cotton fabric absorb and hold up to 1000 times their weight in cool refreshing water. MiraCool Crystals work in combination with the evaporation process. When worn against head, neck or body, cooling sensations are passed to pulse points and carried throughout the body.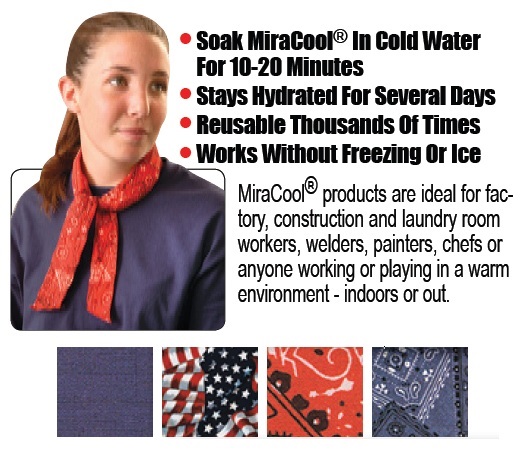 Product Reviews
100% Recommend this product
(
1
of 1 responses)
The Best
September 12, 2018
My husband uses these headbands when working out in the yard; we live in Florida. Many years ago I purchased a headband like this for my husband and it finally bit the dust. I discovered when looking for the company that we purchased the headband from, apparently was no longer in business. Then I found this headband and was my husband ever happy! These headbands keep your head cool and is very comfortable. When not in use, we keep it in an open plastic bag in the refrigerator. This headband would also be perfect for walking, jogging, at the gym, etc. AND, how can you beat the price?!
I purchased two headbands. You will be pleasantly surprised how great these headbands work.