DonJoy Webtech Short Knee Brace
Item Qualifies for Free Shipping
Our DonJoy Performance Webtech Short Knee Brace features an innovative three part system that is ideal for relieving common forms of knee pain often associated with sports injuries, overuse injuries and degenerative conditions. Specifically, the Short Knee features a unique web structure that evenly distributes pressure over the Quadriceps and Patellar Tendons, and helps to stabilize the patella and ensure proper tracking. Compression molded back pad adjusts easily to optimize fit and comfort, and a four way stretch lycra/mesh undersleeve eliminates hot sports and provides an added layer of protection. Compared to the Webtech Knee Brace, the Short Knee is approximately 50% shorter which makes it ideal for relieving pain often associated with tendonitis, commonly referred to as runner\xCDs and jumper\xCDs knee.
Features:
Silicone web surrounds and stabilizes the patella to ensure proper tracking
Strategic bracing design helps fight a wide variety of knee pain while allowing full mobility
Compression molded back pad with mesh for maximum comfort and breathability
Undersleeve with anti-migration technology
TPR pull tabs for easy on/off
Reflectivity for enhanced visibility in low light conditions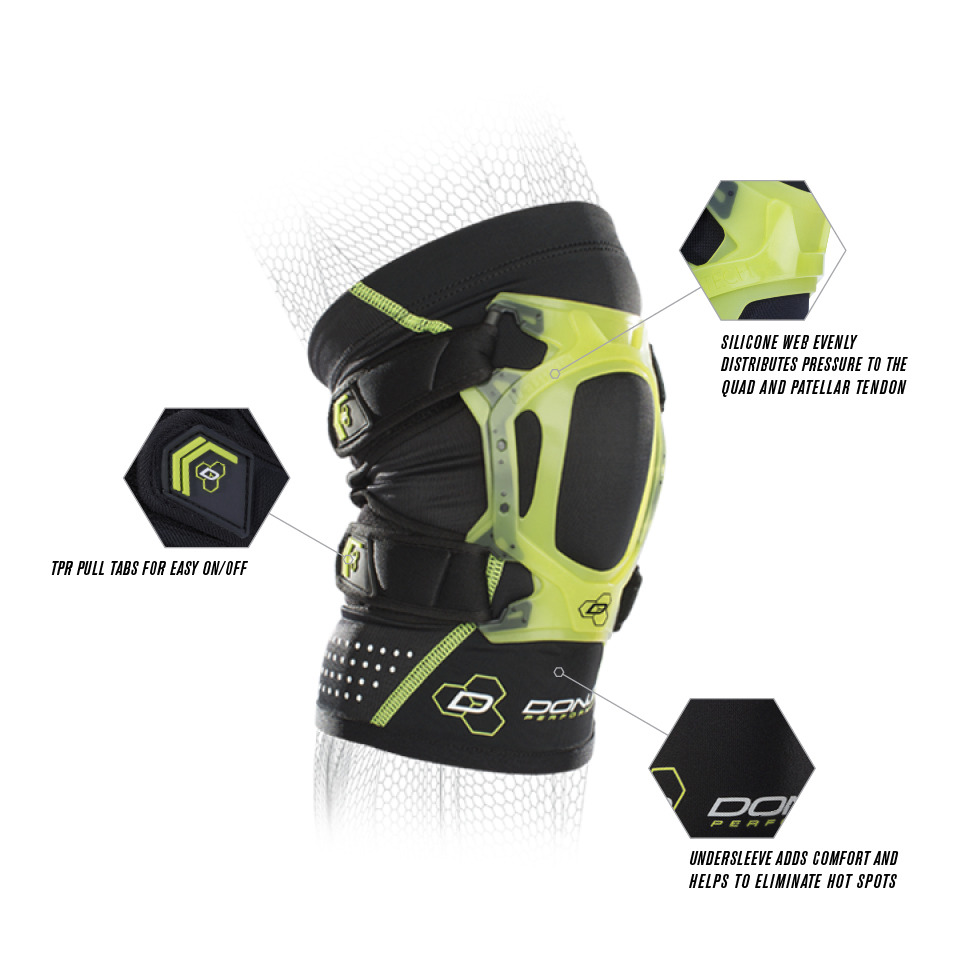 THE DONJOY LEGACY
The roots of DonJoy Performance lie in the rich sports medicine history of DJO Global, the brand\xCDs parent company. Founded as DonJoy in 1978 by Mark Nordquist, the Philadelphia Eagles\xCD offensive line captain, and Ken Reed, a local lawyer, the company started out designing and producing simple sleeves made of sewn-together neoprene that were pulled over the knee, ankle, and elbow joints for support.
Over the years, with massive medical research and development and exceptional technological innovation, DJO Global has grown to become the leader in orthopedics and orthopedic rehabilitation, offering over one thousand medical devices that help people throughout the entire continuum of care, from injury prevention to rehabilitation.
The DonJoy brand can be seen every day at the elite level of sports, with bracing, compression, and protective solutions in the training rooms and on every field of play. The world\xCDs top athletes, trainers and sports physicians have all come to trust DonJoy. And now we\xCDre happy to bring our exceptional technologies and compelling designs directly to athletes everywhere through retail and online distribution with the DonJoy Performance line.