Radians Arctic Skull Radwear Cooling Towels
Radians Arctic Radwear Cooling Towels are made with Advanced ARCTIC Technology that accelerates the evaporative cooling process. Just soak the towel in water for 2 _ 3 minutes and then experience cooling relief for up to 5 hours. The Arctic Skull Cooling Towel is designed to keep you cool during hot outdoor activities, such as construction work, tough workouts, or any strenuous outdoor or indoor activity.

Radians Cooling Towel Features:
Combat heat stress and fatigue with intense cooling experience
Cools body temperature
Reusable Packaging Design.
Safe and Reusable, Jobsite Proven.
Anti-Microbial treated to help prevent mold build-up and unwanted smells.
Heat stress safety management.
Lasts up to 5 hours, depending on humidity levels.
Available in 2 colors - Blue and Yellow.
Dimensions: 26" x 17"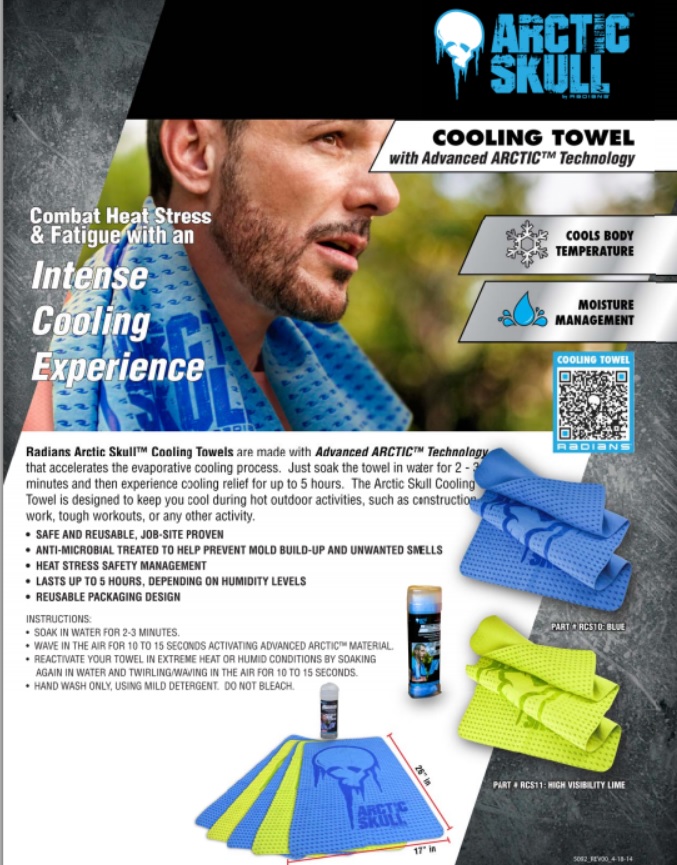 A leader in the Personal Protective Equipment (PPE) business for more than ten years, Radians manufactures a comprehensive line of quality protective gear to minimize personal exposure to safety hazards.

We offer personal protection products for the industrial and retail markets through our authorized distributors.
Our extensive line of safety products includes 80 styles of safety eyewear, Hi-Viz safety vests and apparel, reusable and disposable hearing protection, head gear, hard hats, performance gloves, work boots, barricade tape, and other accessories. All of our products are manufactured in ISO-certified factories and are field tested to ensure maximum performance and protection.

Radians offers its customers versatility, product innovation, flexibility, and a strong value proposition. Our products are distributed in 48 countries on six continents. Our certification as an ISO 9001:2008 registered company reinforces our commitment to customer focus and the manufacturing and distribution of quality personal safety products.

Our biggest strengths: We listen to end-users and respond to market trends.