Due North Oversized Ice Traction Cleats
Oversized Due North™ All Purpose Traction Aids are designed with a deeper toe box and wider sole for larger footwear, such as rugged work and Pac-style boots. All Purpose Oversized Traction Aids are ideal for those who work and play outdoors. Increased traction helps prevent slips and falls on snow and ice, reducing the risk of pulled muscles, fractures and back problems caused by quick slips or falls.
6 replaceable Ice Diamond tungsten carbide spikes for maximum grip
Spike diamond pattern allows more push off and lateral grip
Bi-directional tread for added traction
Special compound rubber retains elasticity and fit in all temperatures
Quick Fit support rings and holes provide easy adjustment and easier on and off
Extra wide, extra thick heel strap gives better grip, durability and longer wear
No straps, snaps or buckles
Lightweight - footwear and product become one
Stores easily into handbag, briefcase, glove box or pocket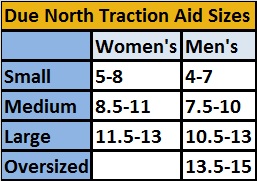 Due North Traction Aid Review:
"Since receiving my pair of Due North\xAC All Purpose Oversized Traction Aids, I use them every time I go out ice fishing. They are fantastic. The people I have fished with, outdoor writers, TV hosts and friends, thought they were easy to use, and you really GOT A GRIP on the ice but still had the comfort of your boots, instead of the bulky arch breaking ice cleat that straps on or slides onto your boot. I have now incorporated them into my slide presentation and articles I write."
- Mark Martin, Professional Fisherman


\xB4 Injuries caused by slips and falls are the third largest cause of workplace injuries according to the Bureau of Labor Statistics.


\xB4 Injuries caused by slips and falls are the single largest cause of Emergency Room visits according to the National Safety Council.




The Importance of Preventing Slips and Falls:
\xB4 Reduce risk of injury
\xB4 Reduce workplace injury
\xB4 Increase productivity





WARNING: DueNorth traction aids help give you traction when you are on the move on ice and snow. However, because no product can completely prevent a slip or fall on slippery surfaces, remember to exercise care when walking or running in DueNorth traction aids. Caution should be taken when moving on any hard or polished surface such as granite or marble and on ladders or when driving a vehicle. DueNorth traction aids may damage certain flooring surfaces.


Product Reviews
100% Recommend this product
(
4
of 4 responses)
No slip pull on
February 11, 2018
I purchase my first pair in November 2017. These are a good addition for any individual and climate zone where sleet or icing may occur.
Keep a pair in your vehicle as well as at home.For boots a size up will most likely be required and will save time and expense on returns.
Traction cleats
March 21, 2021
The correct size for my shoes.
Lasts forever
December 22, 2020
These things ROCK. I've owned my first pair for 23 years and finally need to buy another pair because the rubber that holds the cleats in is finally disintegrating (after 23 years!). Every few years depending on how much I run that year, I purchase replacement cleats. I have never ever fallen with them on unless, my fault, I didn't check to see that a cleat had fallen out which only started happening though as the rubber began disintegrating. Beyond incredible product!
Pros
Long-lasting
Keeps me safe from falling when running downhill/uphill on pure ice.
Stay on/ never fall off
True North replacement cleats are available to purchase when the metal wears down vs having to purchase an entirely new rubber system.
Simple to put on/take off shoes
I can run short distances on the non-iced pavement with them but try not to as it wears the cleats down quicker.
I tell everyone about them!
Best cleets
January 14, 2017
Haven't needed them yet this year but from past experience these are the best, They stay on.
Pros
Stay on shoes. Replacement cleets.
Cons
They eventually wear out.