Digitsole Heated Insoles Warm Series
Item Qualifies for Free Shipping
The first connected and heated insoles:
Warm your feet up to 45°C (113°F)
Comfortable and ultra-light
100% secured battery
Dedicated application Digitsole Warm Series V7 (Android, iOS)
Track your activity: distance, steps, calories burned
Technical description:
Available Sizes: EUR 36 to 47
Compatibility: iOS (10.2 and above); Android (5.0 and above)
Maximum Heat Level: 113°F (45°C)
Battery Life: From 2 to 8 Hours (Depending on usage)
Packaging: Pair of insoles + 1 micro USB Cable + User manual
The first connected and heated insoles:
The Warm Series are the first connected heated insoles, which are designed to keep your feet warm. This innovative product has been designed for your comfort and health. Available on Android and iOS, the dedicated application allows you to regulate the temperature in your shoes and track your daily physical activity with a simple click. Never get cold feet again!
A dedicated application that analyzes your activity:
Our application is available on iOS (above 9.0) and Android (above 5.0) and allows you to connect to your heated insoles using the Bluetooth (BLE) connectivity of your phone. Through the app, you can set the temperature of each insole separately and quantify your daily activity: with the build-in sensors, you can keep a precise count of your daily steps, distance and burned calories.
Integrated thermostat for intelligent heating:
Connect your heated insoles to your phone, choose the desired comfort temperature and enjoy your daily activities during the cold season. The insoles can accompany you on your bike or motorcycle rides, hunting, hiking... and will improve your well-being every day. They are also suitable for workers working in a cold environment: construction, warehouse and security.
The dedicated application allows you to control the temperature inside your shoe to the degree, between 20°C and 45°C / 68°F and 113°F.
Monitoring your daily activity:
The heated insoles Warm Series will become your personal coach on a daily basis, providing you with information about your physical activity in real-time. The integrated tracker will allow you to record the number of walking steps, the distance covered and the number of calories burned.
Heated insoles designed for the comfort of your feet.
Ultra light & Comfortable: Ultra light and comfortable, the Warm Series has been designed for the comfort of your feet.
Easy to ajust: A pair includes two sizes. Just follow the cut marks to adapt them to your shoes.
100% Safe battery: We have integrated a 100% secured battery to avoid any accident.

Connected heated insoles with unique features.
The Warm Series insoles have been designed to offer your feet the best: more comfort, support, shock absorption and hygiene.
They will perfectly follow the foot shape, which maximizes your performance.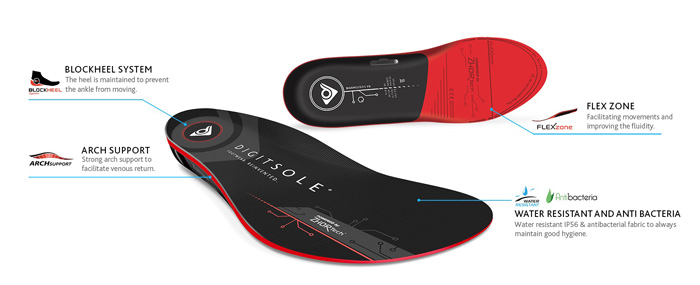 Warm Series, the heated insoles at the cutting edge of technology.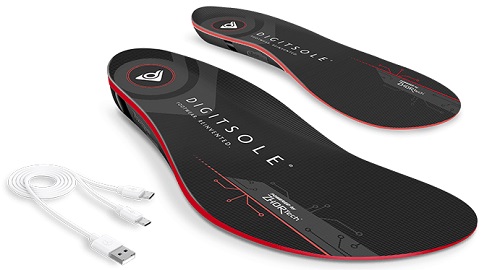 The first time I thought about the Digitsole was when a longstanding old French company specialized in hunting products asked me as an engineer to help them create a shoes collection. They were looking for a real innovation to launch its hunting shoes collection; but after days of brainstorming in their office, nothing very significant came up.
Then, the CEO invited me to go hunting. And this was my first time ever. It was in March in the center of France and of course, it was very chilly. All the hunters had already been waiting in the forest for over three hours. They were freezing. When I arrived there, it took me less than 5 minutes to have a terrible feeling of frozen feet and toes and I immediately asked the CEO to drive me back home. He said that he would not drive me back until I had found the idea. I had no other choice but to think quickly and told him without any conviction that I could design a heating shoe that could be controlled with a remote. I really didn't know how to do it, but I was freezing and I just wanted to go back!
A few weeks later, I designed a heating sole that was powered with a simple battery. That was in 2006. The first heating insole was created! Since the creation of the connectivity, I have been obsessed with the idea of connecting this heating insole. Today, it's done...
Product Reviews
100% Recommend this product
(
2
of 2 responses)
So far so good
January 4, 2021
Insoles have worked really well when charged. But, that seems to be the problem. As I got them for Christmas, I have only used a few times. As soon as you unplug them and connect with phone, battery is down 10 percent! First day I used them was cold and they worked great while I mountain bike but after about an hour, party over . The other times I have been adjusting temperature to make it last longer and now am using timer . It has been warm lately and I haven't been able to use again. Ask me by the end of winter, and I will be able to better answer
Comfortable, warm easy to use can change temp with phone app.