Herbal Concepts Herbal Microwavable Slippers
Herbal Concepts Herbal Slippers
DESCRIPTION
Herbal Slippers provide soothing relief to tired, sore, aching feet with 100% all natural aromatherapy. Comfort Slippers are filled with 12 healing herbs and the highest quality, natural grains available. The natural herbs contour your feet and help relieve stress, tension, cramps and muscle discomfort. One size fits all. Microwave for instant heat therapy or chill for instant cold therapy. Hot or cold Comfort Slippers can help you relax, rejuvenate and restore your body and soul.
note: Intended for use in a resting position. Not intended for walking.
DIMENSIONS (IN): 10 X 6 X 4
FEATURES
100% all natural herbs & grains
soft & cozy fabric
heats in microwave in minutes
heat & aromatherapy
long lasting, penetrating warmth
chill in freezer for cold therapy
one size fits all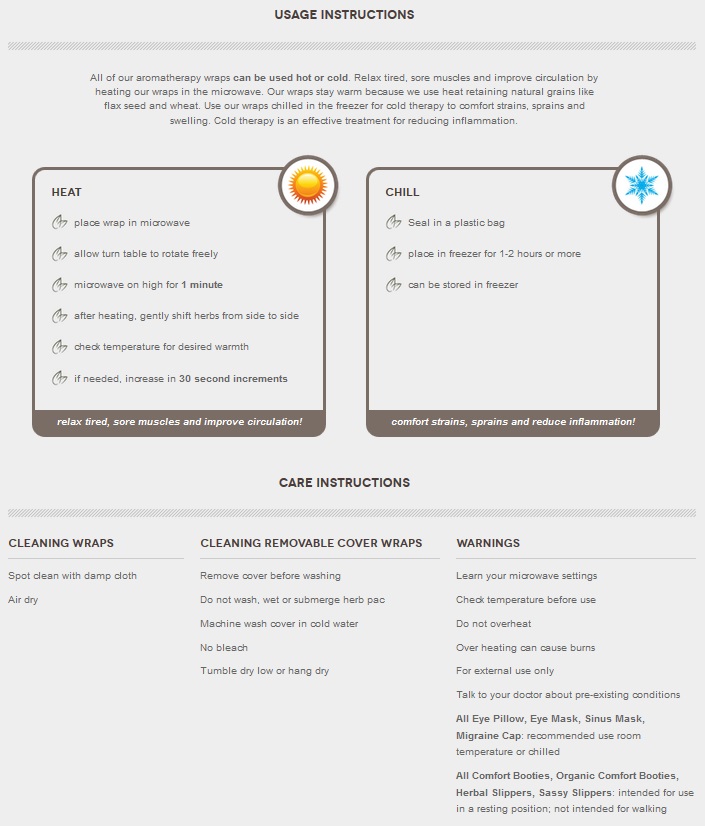 Product Reviews
100% Recommend this product
(
5
of 5 responses)
The ease of just sliding feet into it.
December 1, 2021
The best feature is being able to just slide my feet into it. I'm old, my knees don't bend and having to struggle with some of the other ones to pull them up (especially over socks) around my ankles is a hardship. However, the top needs to extend further back where it joins the sole to give it more support when a foot is moves or lifted some. More like a clog. Right now the heel part flops down when the foot is moved and is irritating. So the idea is to still be able to just slip it on but the opening at the back by the heel would be shorter.
Pros
Easy to put on. The heat sure feels good.
Cons
Needs some redesign improvements.
By Poolspagranny
W Greenwich, RI
Great Quality!
November 23, 2020
I bought these for a gift therefore I have not worn them but feel the quality of the item. Very pleased with the weight and the look of the slippers. I have confidence after reading other reviews that my daughter will get great use from these slippers. Heated slippers help people with poor circulation warm feet quickly and get them to sleep faster! Shipping was very good and they arrived in perfect condition.
Great company
August 26, 2017
I love these slippers. I have bought many of them in the past but these are made of a very soft fleece, inside and out. I bought a pair for my mother-in-law and myself.
Pros
I got a personal call from someone in the company to let me know PERSONALLY! that one of the colors I ordered was not in stock. I chose a different color and was just so impressed that they took the time to call. :-)
Very nice product and fairly priced
July 26, 2017
The product is what I had hoped for. It is exactly what my uncle needed for his neuropathy.
Cons
In the future I will not pay extra for priority mail. It took at least 7 days to receive the product.
By Michelle
Warrensburg, MO
Amazing relief!
February 26, 2017
I received the comfort slippers as a gift, and I love them!! The aromatherapy combined with heat or cold is wonderful. Cold relief for my swollen heal and ankle after all day on my feet at my store, or warm therapy for my feet when they ache and I can relax on the couch. So much better than plastic packs!
Pros
Comfortable material
Amazing scent
Easy to use