Bandless Ear Warmers
Sprigs Earbags Ear Warmers
Earbags are made of 2 layers of fleece for comfort and to help keep your ears toasty warm.

Your ears stay toasty warm when the cold wind blows, with our lightweight bandless ear warmers. Gently slip them on and snap them into place for a secure, warm, comfortable fit. No more hat head, over the head ear muffs, or bands around the back of your neck. Swedish designed, Earbags are the #1 brand in bandless earmuffs. Stay warm and fashionable with Earbags!
Thinsulate flex insulation
Soft carry pouch included
Soft polyester fleece
Fabric 100% Polyester
Hand Washable
US Patent# 5,005,672
Sprigs Earbags are perfect for skiers, snowboarders and winter enthusiasts of all kinds! Earbags are perfectly classy, simple, and very warm. These patented ear warmers fit easily around your ear and stay on snugly and comfortably.

To gauge your size, measure your ear top to bottom. Sizes are based on the height of the ear:
Medium: Ears ranging from 2 1/4 in. to 2 3/4 in. are medium. (80% of Earbags are sold in medium.)
Large: Ears measuring over 2 3/4 in. take a large.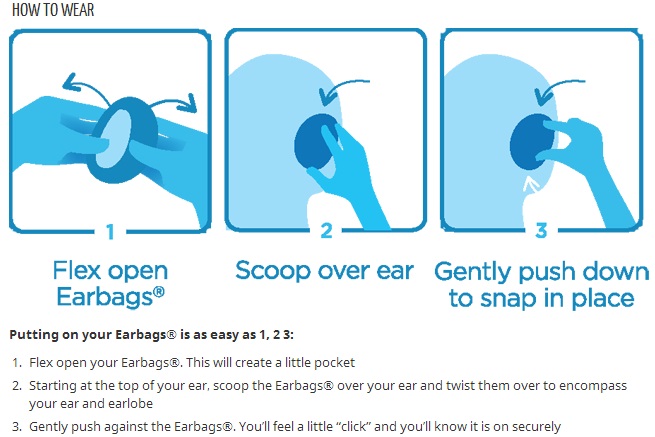 Product Reviews
100% Recommend this product
(
17
of 17 responses)
Best ear warmer ever!
April 11, 2023
I canít wear traditional ear warmers; they give me a headache. Iíve been wearing these forever and lost one on a recent trip. Couldnít wait to get them re-ordered!
Pros
Easy to pack or carry in a pocket.
Missing the Cloth Bag to Carry the Ear Warmers
December 15, 2022
These ear warmers are the best and work wonderfully. Problem is that they are easy to lose.
That's why I ordered a replacement pair, trusting the bag would be included as before. The bright
blue and bright red cloth bags keep them together and also easier to find in a purse or drawer.

Great product
September 30, 2021
I love this product!!!
Simple and warm
April 7, 2021
These ear bags are made well, simple to wear and warm.
I live on the ocean where thereís always a cool breeze. I wear these nearly every day. They keep my ears warm, but arenít cumbersome. I wear them hiking, biking, walking and beach combing. I love them!