The Green Pet Shop Self-Cooling Pet Pad - Large
Item Qualifies for Free Shipping
The Pet Cooling Bed is the only one that doesn't need water or electricity. The cooling pad is weight or pressure activated. As soon as your pet lies down, the cooling effect starts and lasts for up to four hours (depending upon conditions)! The pad recharges automatically after a short period of non-use. You can supercool your pad by putting it in the refrigerator and it will last up to 6 hours.Available in 4 sizes:
Small: Breed -Toy/Cat - up to 25 lbs - Dimensions:11.8 x 15.7
Medium: Breed -Dachshund - 25 -69 lbs - Dimensions: 15.7 x 19.7
Large: Breed -Boxer -70-99lbs - Dimensions: 35 x 23.6
XL: Breed - Great Dane- 100lbs+ - Dimensions: 45 x 27.5
Here's How This Amazing Technology Works:The pad is activated by your dog\xCDs weight. You can get a larger bed for a smaller dog if they move around a lot. Every area that their body comes into contact with will be cooled because the pad absorbs your dog\xCDs body heat to cool him or her down. We didn't think we could improve on this product but this year, we moved our manufacturing facilities to a medical factory. We chose to make the change, even though production costs are higher, because we wanted to put the very best product on the market, and we have! The new product is leaner, lighter, thinner, more mold resistant, and more durable with reinforced edges.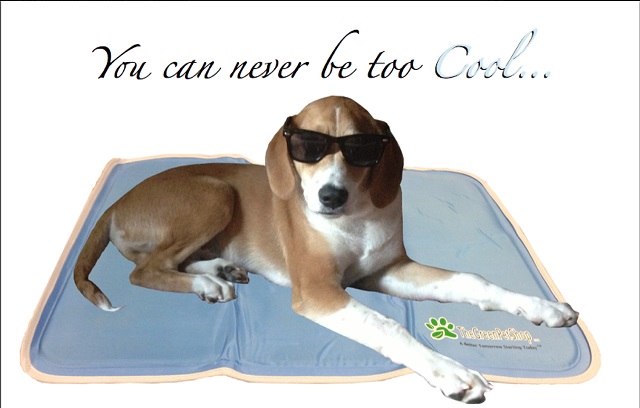 A green solution to cool your dog with these great features:
No water or refrigeration necessary
No electricity
Re-charges Automatically
Lasts for years
Helps prevent overheating & dehydration
Cools & soothes
Fits standard size beds and crates!
Perfect for cars
Folds easily
Sturdy Construction
Wipes clean
Non-toxic
Cooling pads help dogs with a number of health conditions:
Heat Stroke
Hip Dysplasia
Cushing's Disease
Allergies
Post SurgerySenior Canines
Post Chemotherapy
Skin Conditions
Epilepsy & Seizures
Product Reviews
100% Recommend this product
(
1
of 1 responses)
cool bed
February 12, 2018
we have a golden retriever who gets very hot when it is warm. This works great in keeping her cool.