Torch Anseris 2.0 Universal Coat Heating System
Item Qualifies for Free Shipping
Torch Anseris 2.0, the Next-Gen Coat Heater was cultivated from the innovative minds of our engineers and enthusiasts. Torch Anseris 2.0 and has been updated from its predecessor with more efficient heat pads, no snag Velcro, push button technology, a hidden battery pocket, and a new 5V, 6000mah power bank capable of powering Torch Anseris 2.0 for up to 4 hours, and also capable of charging your cell phone. Torch Anseris 2.0 is also now available in 3 sizes.
Features:
One rechargeable 7.4 Volt, 2600mah lithium ion battery
One US charger included.
4 heat settings.
Lasts for up to 500 cycles.
Has proper CE, UN and UL certifications.
3 installation kits. Each installation kit consists of 3 adhesive backed Velcro patches that install in seconds and fit discreetly in your coat. With 3 installation kits, that means you are able to transfer the Torch Anseris Coat Heater between 3 of your favorite coats.
Durable, thin, lightweight construction weighs only 4 oz.
Temperatures (Degrees in Fahrenheit)

High 120-135°
Med/High 110-120°
Med/Low 90-120°
Low 75-90°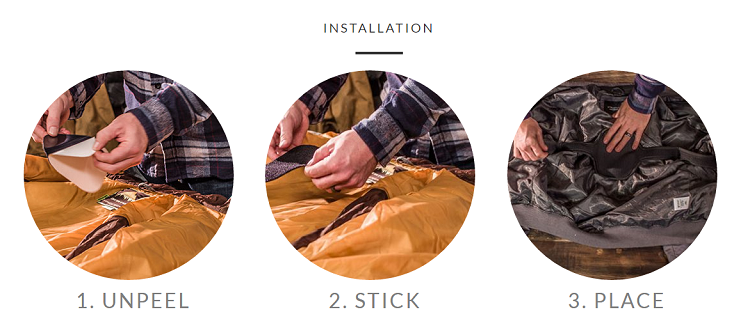 Product Reviews
100% Recommend this product
(
2
of 2 responses)
Helps on the cold days
February 7, 2021
Takes the chill out when the temps drop. I use it in a hoodie and a heavy coat. Battery time depends on the temp setting, I carry an extra incase needed. Battery can also be used as a back up charger for cell, or other device.
Works well battery doesn't last very long needs recharging often
November 20, 2018
Works well battery doesn't last very long needs recharging often. It is good to give you two sets of Velcro pads to use it are two different jackets but they do not stick very well to the cloth. It does stick don't get me wrong, maybe I need to hold it on there or keep it on for an extended period of time but after I pressed it on for a bit it was not weak enough to come off and fall off but I could easily peel it back from the cloth
Cons
Battery does not last long. The sticky pads to not stick to the cloth very well