Hotronic Power Plus S4 Foot Warmer Custom Heated Insole Kit
Item Qualifies for Free Shipping
Hotronicís new S Series Footwarmers offer more than ever before. With enhanced reliability and longevity, the new S Series batteries maintain up to 55% of a full charge and 95% of their initial capacity after four years of non- use! Plus, an increase in capacity offers up to a combined 30% in higher average temperatures and longer duration on a single full charge, all when needed most, in the cold.


Hotronic Footwarmer Power Plus S4 Custom Kit Includes:
2 Battery Packs S4 with Integrated Heat Regulator
1 Pair of Heating Elements with Self-Adhesive Fabric Covers and Strips, for installation on insoles of your choice or any of the Hotronic Heat Ready Insoles
1 Recharger (global input 100-240VAC, 50/60Hz) with North American and European Plug Adapters
Operating Instructions & Limited Warranty Card
With four (4) cells in each Battery Pack, the Power Plus S4 is Hotronic's most powerful, longest lasting FootWarmer!
HOTRONIC'S FOOTWARMING SYSTEM
Easily installs in all types of footwear.
Transfers simply from one pair of footwear to another.
Use while skiing, snowboarding, bicycling, horseback riding, fishing, and during other general cold-temperature activities.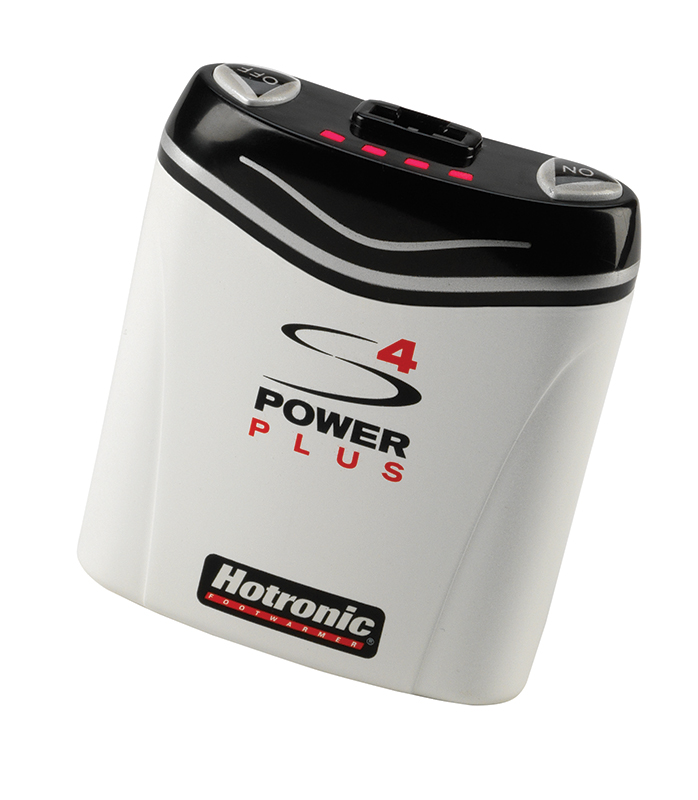 HOTRONIC'S BATTERY PACK S4
Powered by high capacity, cold temperature operation, NiMH cells.
Four (4) temperature-duration settings.
Settings adjusted by easy to use, push-button controls.
Easy to read Battery Pack LEDs indicate setting selected and power on / off.
Battery Packs easily attach to secure area of footwear.
Battery Packs S4 contain four (4) cells for extended duration.
NiMH cells do NOT have "memory effect" and do NOT require fully discharging before fully recharging.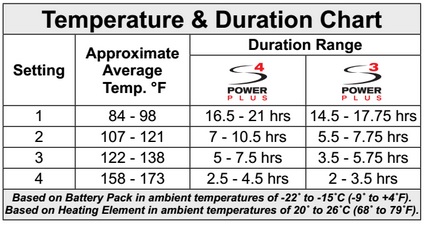 HOTRONIC'S RECHARGER POWER PLUS s/ e / m SERIES
Advanced global charging technology with overcharge protection and input range of 100V-240V.
Includes North American and European plug adapters.
Recharger LEDs indicate recharging mode and battery charge status.
Compatible with both e Series and m Series Battery Packs.

HOTRONIC'S HEATING ELEMENTS
Large oval Heating Elements provide effective anatomical coverage of toes.
Heating Elements easily install in Hotronic's Heat Ready Insoles (Semi Custom Heat Ready Insoles or One Size Fits All Heat Ready Insoles) or on insoles of one's own choice.
Self-Adhesive Fabric Covers and Strips included for installation on insoles of one's own choice.
HOTRONIC FOOTWARMER POWER PLUS S SERIES
The following Hotronic FootWarmer models are covered under the following Hotronic Limited Warranty:
Hotronic FootWarmer e Series Models and Production Years
Power Plus FootWarmer S4 (2014-2015)
Power Plus FootWarmer S3 (2014-2015)
HOTRONIC LIMITED WARRANTY
The Hotronic® FootWarmer Power Plus e Series carries a limited warranty for two (2) years from the date of purchase. This limited warranty extends only to the original consumer who purchased the new Hotronic® FootWarmer Power Plus e Series from an authorized Hotronic® dealer. Dated Proof of Purchase is required. Hotronic® will replace or repair only that component of the Hotronic® FootWarmer Power Plus e Series found to be defective as to workmanship or material. This limited warranty does not extend to damage resulting from misuse, neglect, abuse, or any use inconsistent with the operating instructions; normal wear and tear; changes in exterior appearance or color; breakage (except breakage resulting from manufacturing defects); improper dealer service; improper dealer or consumer modifications to product; loss of product due to improper attachment; any normal variations in the temperature per setting or the duration per charge per setting which results from the method of recharging the batteries, the conditions in which the FootWarmer Power Plus e Series is used, and the tolerances of the batteries, micro-controller, micro-processor, or micro-chip.
This Limited Warranty is the only warranty offered.
There are no other warranties, expressed or implied. Neither Hotronic International Limited nor the Distributor is liable for any incidental or consequential damages resulting from the use or possession of the Hotronic® FootWarmer Power Plus e Series.
If a defect arises in the FootWarmer Power Plus e Series within the limited warranty period, the user should promptly return the product to an authorized Hotronic® dealer. Dated Proof of Purchase is required. If the FootWarmer Power Plus e Series or any other component is replaced or repaired, the replacement or repair is covered only for the remainder of the original Limited Warranty period dating from the purchase of the original FootWarmer Power Plus e Series.