Comfort Zone 4" Desktop High Velocity USB or Plug in Cradle Fan
The Comfort Zone CZHV4 4 inch high velocity table fan uses a minimal amount of electricity so it only costs pennies a day to operate. It doesn't require any installation or mounting and sits right on your table or desk. The CZHV4 4 inch high velocity table fan provides cooling and adds ventilation to any area it's needed. Can be powered from any USB port or by using the 110V plug.
Compact Design
The Comfort Zone CZHV4 4 inch high velocity table fan features a compact design that's made to provide cooling and ventilation while saving you space.
Quiet Operation
The CZHV4 4 inch high velocity table fan operates quietly so it can be used wherever it's needed.
All Metal Construction
This high velocity table fan has all metal construction to make sure it lasts a long time.
Adjustable 360 Degree Tilt
The Comfort Zone CZHV4 tilts all the way around to deliver the air flow in any direction it's needed.
Product Dimensions: L: 6.00" x W: 7.00" x H: 4.00"
Product Weight: 1.68 lbs.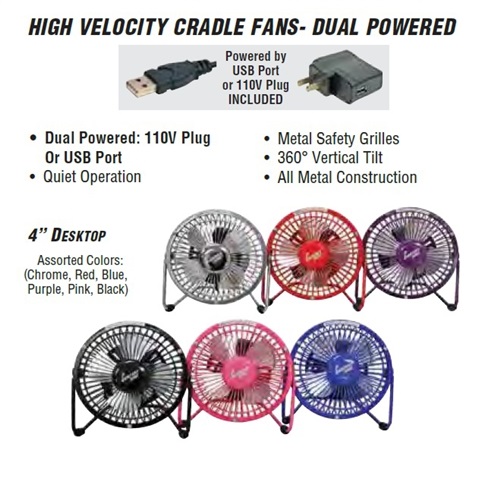 Comfort Zone Fans, Heaters, and Accessories are offered in both consumer and industrial styles. We have several models that vary in construction and style and are suitable for both home and office. Comfort Zone offers both portable and mounted fans. They are reliable, quiet and many models are built to oscillate distributing air evenly throughout a room. All Comfort Zone Fans, Heaters, and Accessories are manufactured to provide enhanced safety.
Comfort Zone heaters and fans are nationally recognized as the leading brand of quality space heaters for the home, the shop and the office. Each heater and fan is designed and tested to exceed UL, ETL, SAA, CE, NOM and other global marks for quality. Comfort Zone uses many technologies like Quartz/Infra-Red, Quartz Radiant, Halogen Radiant, Ceramic/PTC, Oil-filled Convection and fan forced models.

You can find Comfort Zone heaters in leading home centers, mass merchants, appliance stores, drug stores and thousands of other hardware store and retail outlets throughout North America. Comfort Zone heaters span the entire range of retails price points from the most economical to furniture quality infra-red space heaters with full functioning remote control.
Comfort Zone is part of the Howard Berger family of companies. In 1971, Howard Berger founded The Howard Berger Company (HBC) as many successful entrepreneurs have done; in his parent's garage! From this humble beginning, the company grew very quickly by buying many different products that otherwise would have been discarded, fixing them up and reselling them to the local New York market. Having worked in the family hardware store as a youngster, his true love was still hardware, so Howard ventured back into the hardware business by creating Guard Security Hardware. Guard was one of the first importers of locks and builders hardware and quickly become an industry leader and recognized national brand name.